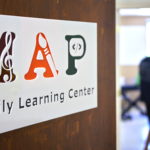 "MAP Family Learning Center" in Malden, MA is an after school programming for students to supplement their education with high-quality Music, Art, and Programming (coding) classes. We offer small group and private instruction for kids, teens, and adults.
Dedicated Parking Available
A five minute walk from Malden Station (Orange Line)
Dedicated Spaces for Music, Art, and Programming
Free on-site parking
Llocated directly across from the Beebe school
Experienced, Professional Instructors
All MAP Instructors are highly qualified in their fields.
Background checks are also conducted for all MAP staff and instructors.