Description
Let's sing and dance to music | Bailamos y Jugamos con la Música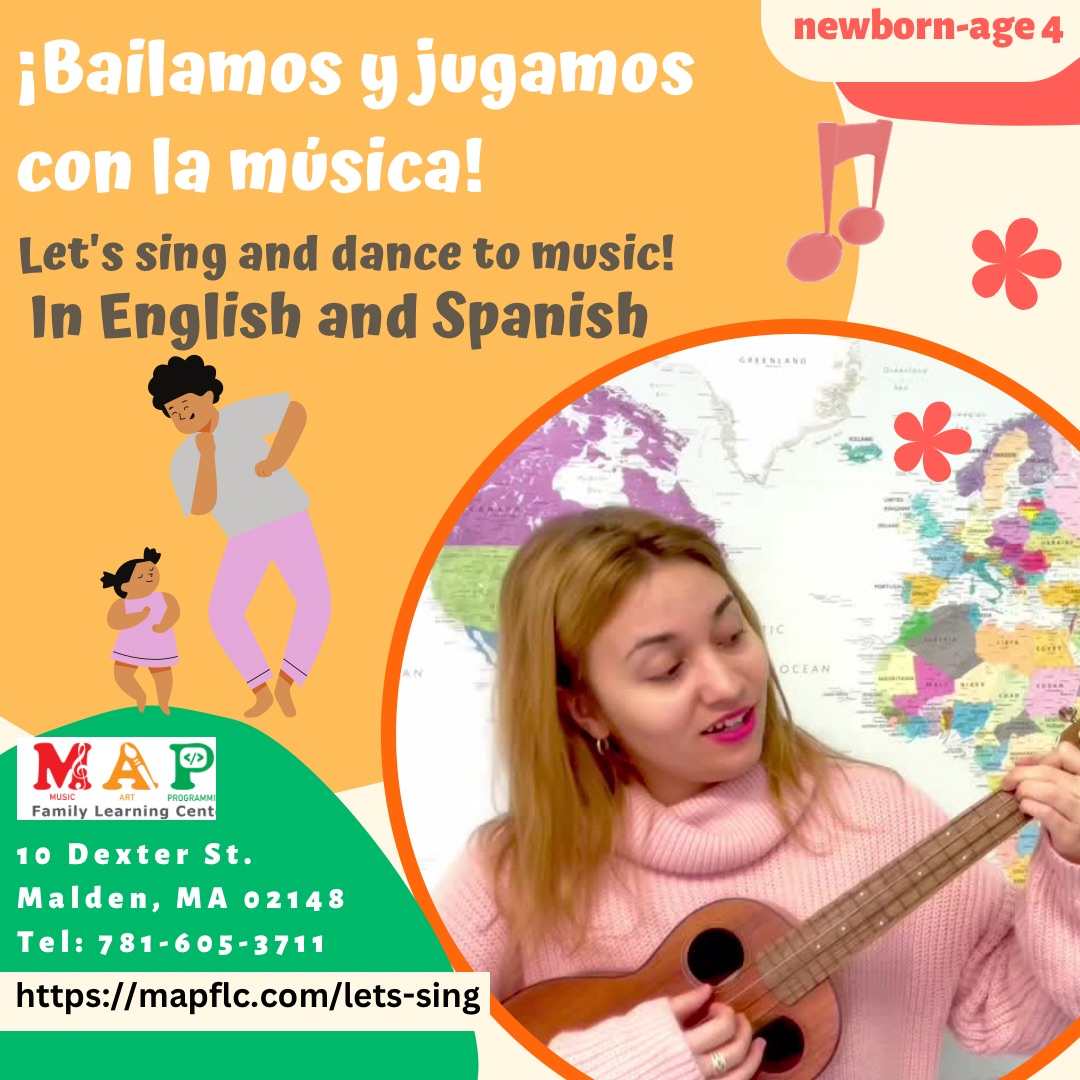 Course description (English)
Welcome to MAP's new music program: "Bailamos y Jugamos con la Música!" We hope you'll join us in one of our upcoming classes.
Together with your infant, you can move and sing together in Spanish and English! Our teacher, Anabel Gil Diaz, is delightful and knowledgeable with a certification in early childhood music development, so you know your child is learning in the best possible way. Plus, she is a professional Berklee-trained musician and Fulbright scholar, so she loves what she does! In "Bailamos y Jugamos con la Música" we always make learning fun! Families have the opportunity to enjoy singalongs, story time, workshops, concerts, and parent education series online throughout the week, so you and your child(ren) can keep jugando con la musica all week long! Check it out! You'll love the high-quality engaging programming, and our teachers couldn't be happier to share it with you! Thanks for joining us!
MAP offers "Bailamos y Jugamos con la Música," an early childhood music program for kids and families, offered in Spanish and English, available indoors and online.
The music curriculum is strongly supported for the interaction and development of the children and their families together, offering the opportunity for both Spanish language learning as part of it. "Bailamos y Jugamos con la Música" is for an range age from newborn babies to age 4, with different group activities designed for early stage (newborn to 8 months old) and mix-age (newborn to age two). In all group classes the activities are specially designed for each stage of development, and the teacher leads the parent(s) so you can bond with your baby, as you engage in each enriching and fun activity together. The teacher engages with the kids, teaches musical concepts, and interacts with them in age-appropriate music exercises, for example basic music literacy — both written and aural! Kids' ideas and suggestions are incorporated to make learning fun!
Descripción del curso — Course description (Spanish)
¡Bienvenidos al nuevo programa musical del MAP: "Bailamos y Jugamos con la Música!" Esperamos que se una a nosotros en una de nuestras próximas clases. Nos aseguramos de ofrecer lo mejor en clases para padres e hijos, programa de educación en la escuela, eventos comunitarios y fiestas privadas de cumpleaños. Esperamos que usted y su hijo pasen un tiempo maravilloso juntos. Con clases para bebés, niños de edades mixtas y niños grandes, tenemos algo para todos, tanto en línea como en interiores, ¡español e inglés! Nuestro maestro está certificado en el desarrollo musical de la primera infancia, para que sepa que su hijo está aprendiendo de la mejor manera posible. Además, es músico profesional, ¡así que le encanta lo que hace! ¡En "Bailamos y Jugamos con la Música" siempre hacemos que aprender sea DIVERTIDO! Las familias tienen la oportunidad de participar con la transmisión de un canal de clase adicional (quizás podamos crear un canal de YouTube con videos y actividades de clase adicionales) que ofrece canciones, cuentos, talleres, conciertos y series de educación para padres, para que usted y su(s) hijo(s) puedan seguir jugando con la musica toda la semana! ¡Échale un vistazo! ¡Te encantará la programación atractiva de alta calidad, y nuestros maestros no podrían estar más felices de compartirla contigo! ¡Gracias por unirte a nosotros!
MAP ofrece "Bailamos y Jugamos con la Música," un programa de música para la primera infancia para niños y familias, que se ofrece en español e inglés, disponible en interiores y en línea.
El plan de estudios de música está fuertemente respaldado por la interacción y el desarrollo de los niños y sus familias juntos, ofreciendo la oportunidad tanto para el aprendizaje del idioma español como parte del mismo. "Bailamos y Jugamos con la Música" es para el rango de edad de bebés recién nacidos hasta los 4 años, con diferentes actividades grupales diseñadas para la etapa temprana (recién nacido-8 meses) y edad mixta (recién nacido-2 años). En todas las clases grupales, las actividades están especialmente diseñadas para cada etapa de desarrollo, y el maestro guía a los padres para que puedan vincularse con su bebé, mientras participan juntos en cada actividad enriquecedora y divertida. El maestro interactúa con los niños, les enseña conceptos musicales e interactúa con ellos en ejercicios musicales apropiados para su edad, por ejemplo, para los niños más avanzados, ¡la clase comienza a presentar notación musical y tocar patrones de ritmo! ¡Las ideas y sugerencias de los niños se incorporan para que el aprendizaje sea divertido!