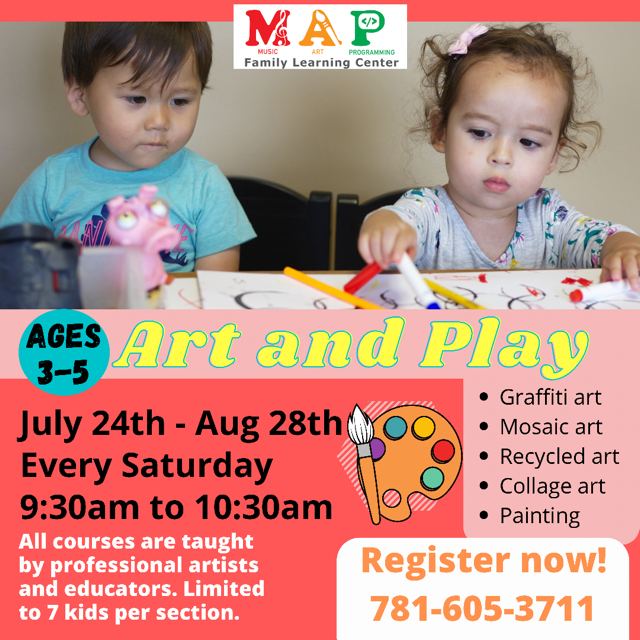 9:30 am to 10:30 am
Ages 3 yrs. to 5 yrs. old
Starting July 24th until the end of August
All courses are taught by professional artists and educator
NOTE: Classes taught in-person at our Malden MAP location at 10 Dexter St. Malden, MA 02148.
Interested in something fun, creative, and engaging for your young children? MAP Family Learning Center has put together a fun class for parents who want to really engage their kids, ages 3-5, in playful art, while building many important skills. Led by Georgenia Toussaint, who we have witnessed do magic with kids in this age group, each class has a distinct topic for kids (and their parents) to explore and learn. Read the description below and go to registration with the button below.
Class Description
About Art, Learn, & Play
The Art, Learn, & Play art program is for children ranging from ages 3-5yrs old. This is a great art program to encourage children to explore art through play doing hands-on activities. Parent/s and their child will participate in these creative learning scheduled classes, supporting their child's creative interest and use of materials and art supplies during class every Saturday morning from 9:30. a.m.
About the Instructor
Hello, my name is Georgenia Toussaint, I am the facilitator and instructor for the Art, Learn, & Play program for the summer. My objective for this art program is to support children and families within the local community. I curated these fun engaging, hands-on art classes for parent/guardian/s and their children, to discover art through play. As a preschool teacher I find children learn by their curiosity, helping children build their growth development skills. I am currently an undergrad at Lesley University majoring in Education and Art therapy. I have many years of experience both as a professional artist, arts administrator, and educator.
Weekly Topics
Week 1: SCRIBBLE… SCRIBBLE!
Graffiti art July 25th, 2021
Focus: Life-size paper murals so kids can get the full experience mixing paints to make new colors and pouring it into spray water bottles mixed with water to create a fun colorful masterpiece. Children also have the option to play with art individually using paint sticks, crayons, or marks on white or black stalk paper.
Week 2: SPARKLY SHINEY FUN!
Mosaic art July 31st, 2021
Focus: Colorful gems, paper squares and random plastic tiles placed in trays for children to choose from to place on sticky paper to create patterns and fun cool designs.  Children also have the option to glue these colorful gems, paper squares and random plastic tiles on wood picture frames and or cardboard cutout letters.
Week 3: SAVE THE PLANET FUN!
Recycled art August 7th,2021
Focus: Cardboard, of any size for a background, to glue pre-cut different shapes of cardboard, such as circles, triangles, rectangles, and squares, to paint over with primary color tempera paints.
Week 4: MIX, CUT AND GLUE!
Collage art August 14th,2021
Focus: Pre-cut pieces of different color tissue paper for children, to glue on square pieces of foil paper, to create patterns and fun cool designs.
Week 5: WEAR YOUR ART FUN!
T-Shirt painting August 21st, 2021
Focus: All you need is a white T-shirt that your child can paint on with fun vibrant colors, so they can wear it after it is dry, to share and wear their fun creative design proudly.
Week 6: SQUISHY, SMOOSHY FUN!
Blob painting August 28th, 2021
Focus: Squirt different color paints on wax paper and fold it over in half, so your child can rub his or her hands across the surface, to smoosh and squish the paint around, to feel and see all the paint move in all directions and open the wax paper and see what you created.
Extra Option: Mystery fun Art Bags!
For an extra fee of just $5 per class, you can receive pre-made Mystery Fun Art Bags at the end of each class! This is great for continuing art at home with you and your child.
Mystery Fun Art Bags include:
Art activity with instructions
Materials for activity
Art supplies needed for at-home activity